Below is a timeline from Knightlabs, tracking the history of railway in BC
Mapping
Below are geographical maps, demonstrating the transportation infrastructure at different sites around British Columbia. Furthermore, these maps differentiate the type of goods being transported. These demographic maps highlight the present day railway, demonstrating the evolution of transportation.
There are 4 major railways in British Columbia:
BC rail
Canadian National (CN)
Canadian Pacific Railway (CPR)
Esquimalt & Nanaimo Division (E&N)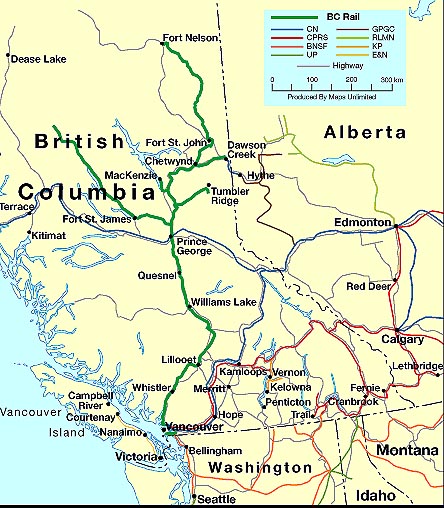 Above is an image of railway in BC pre-1970's where a northern track to Dease Lake was discontinued due to its economical impact. This demonstrates how BC was projected to keep expanding towards the north but could not sustain the high costs of creating railroads. Much of this railway remains today, seen in on the first map in green
Tourism
Rocky Mountaineer dominates the tourism railway of BC, with world renown train rides across BC's most extreme nature. There three tours cross BC into Alberta right through the Rocky Mountains, crossing a plethora of environments throughout the tours.
With the decline of railway in BC, alternatives have been projected for example: Rail trails. There are 3 major 'rail trails' tourism attractions in BC, a new development for past railroads being converted into trails for the general public a great repurposing idea. a fourth is projected in the near future: Rail Trail (Enderby to Sicamous).
3 major 'rail trails'
The Kettle Valley Rail Trail (Midway to Hope)
The Columbia & Western Rail Trail (Castlegar to Midway)
The Okanagan Rail Train Trail (Coldstream to Kelowna)
Sources
https://en.wikipedia.org/wiki/BC_Rail#:~:text=Chartered%20as%20a%20private%20company,present%20name%20of%20BC%20Rail.
https://www.leg.bc.ca/dyl/Pages/1886-First-Transcontinental-Train-Arrives-in-Vancouver.aspx
https://www.airhighways.com/bc_railmap.htm
https://www.airhighways.com/advrails_bc.htm
https://www.rockymountaineer.com/train-routes/first-passage-west